Center for Plastic Surgery Ann Arbor
5333 McAuley Drive, Suite 5001
Ypsilanti, MI 48197
Phone: (734) 712-2323
Monday–Friday: 9 a.m.–5 p.m.

Eyelid Surgery
Our Ann Arbor plastic surgeons perform eyelid lift surgery, technically called blepharoplasty, to create youthful contours for the upper eyelids, lower eyelids, or both. These procedures revive the eye area by removing sagging skin from the upper eyelids, tightening droopy lower eyelids, and reducing puffy bags from underneath the eyes, which can also improve dark circles. Eyelid surgery can also improve the visual field of patients whose sagging upper eyelids interfere with and obstruct their peripheral vision.
Who Is a Good Candidate for Eyelid Surgery?
Age alone does not define who might be a good candidate for facial rejuvenation or eyelid surgery. Men and women often choose these procedures to delay or improve visible signs of aging. Your surgeon will help you determine the right procedure for you during your personalized consultation.
You may be a good candidates for eyelid surgery procedures if you:
Have extra upper eyelid skin and/or lower eyelid bagginess that makes you look tired and sad.
Can clearly define why you want the surgery.
Understand what eyelid surgery can and cannot accomplish.
Accept the potential risks of surgery and your responsibilities as a patient.
Are healthy, emotionally secure and stable.
Accept that you will need to make healthy lifestyle choices to maintain the results achieved by eyelid surgery.
Have realistic expectations and are willing to accept minor asymmetries.
Meet Our Surgeons
Our board-certified plastic surgeons have more than 50 years of combined experience in all facets of cosmetic and reconstructive surgery. As a qualified and compassionate team, they share a goal of providing a safe and rewarding plastic surgery experience while creating exceptional results worthy of your trust.
Credentials You Can Trust

How Much Does Eyelid Surgery Cost in Ann Arbor, MI?
The cost of combining upper and lower eyelid surgery at our Ann Arbor practice is $7,622. The cost of upper eyelid surgery alone ranges from $3,757 to $4,517. Lower eyelid surgery ranges from $4,070 to $5,109. The price varies depending on the extent of the procedure and the technique used by the surgeon. Eyelid surgery performed using a local anesthetic with sedation costs $2,646 for upper blepharoplasty and $2,549 for the lower eyelids. We offer flexible payment plans to help you achieve your goals.
If you're considering combining eyelid surgery with other procedures, you can see the costs on our plastic surgery pricing page.
The price of your surgery includes:
Surgeon's fees
Anesthesia fees
Operating facility fees
Residents considering eyelid surgery in Plymouth, Canton, Chelsea, and surrounding areas can get detailed quotes after consulting with one of our surgeons.
How Is Eyelid Surgery Performed?
Eyelid surgery is typically performed using the following techniques:
An incision within the natural crease of the upper eyelid. Fat may be redistributed or removed, excess skin is diminished, and a more alert, refreshed look is restored.
Through an incision inside the lower eyelid, fat may be reduced, grafted, or redistributed to improve hollow areas beneath your eyes.
An incision just at or below the lower lash line allows for the reduction of excess sagging skin below the lower eyelid and correction of bags and puffiness.
An incision beyond the outer corner of the eye can tighten the tendons of the eyes, improving a down-turned appearance.
Other Things to Know About Eyelid Surgery
Eyelid surgery is performed on an outpatient basis using local anesthesia with sedation or general anesthesia.
Scars are a normal outcome of surgery and are generally concealed within the natural eyelid crease. The location and pattern of your incisions and the resulting scars will be discussed during your consultation. Camouflage makeup is available to temporarily conceal any redness or bruising once the sutures have been removed.
Recovery varies by individual, but usually takes 7 to 10 days for swelling and bruising to resolve. You may return to light, normal activity the day after your procedure.
Contact lenses can be worn when comfortable, usually within 7 to 10 days.
Results are long-lasting, but maintaining your youth is a lifestyle choice, and proper skin care is essential after surgery.
You will need a responsible adult with you for 24 hours after your release from the hospital.
All surgeries carry the potential for risks, which will be fully discussed with you during your consultation.
Preparing for Eyelid Surgery
When the date for your eyelid procedure has been set, your plastic surgeon will provide you with specific instructions for the days immediately before and after eyelid surgery.
A number of points may be covered, including:
Avoiding certain medications that may complicate surgery or recovery
Stopping smoking for a period of time before and after surgery
Arranging for help and special care following surgery
Other Procedures for a More Complete Facial Rejuvenation
Fat grafting
Permanent makeup
A Reputation Built on Results
Love everyone here. Every experience skilled and caring, Patty, Dr Sherrick, Bernice, have all helped...
Outstanding services, top notch professionals, welcoming staff, accommodating financial plans. Highly...
Received some filler from Patty. She was awesome and made excellent suggestions. I am VERY pleased...
I have been a patient at CPRS for years. Their staff and work is second to none. This is truly the place...
Insurance Guidelines
If upper eyelid surgery is being done to improve the field of vision, insurance may cover the surgery. Otherwise, eyelid lifts are considered cosmetic procedures and the patient is responsible for payment.
While we no longer participate with insurance, we do offer a self-pay option to give patients the opportunity to receive insurance benefits for medically necessary procedures. With the self-pay option, patients have their procedure performed in the hospital by our physicians. Patients pay upfront for physician fees and are responsible for initiating the reimbursement request with their insurance company. If you have questions or would like to explore this option, please call us at (734) 712-2323.
Your Next Step
At Center for Plastic Surgery Ann Arbor, we look forward to helping you achieve your aesthetic goals. Please request your consultation with our easy-to-use online form or call our office at (734) 712-2323 to schedule your visit. Our consultation fee for both virtual and in-person consultations is $125, which is applied to the cost of surgery if you choose to move forward with the procedure.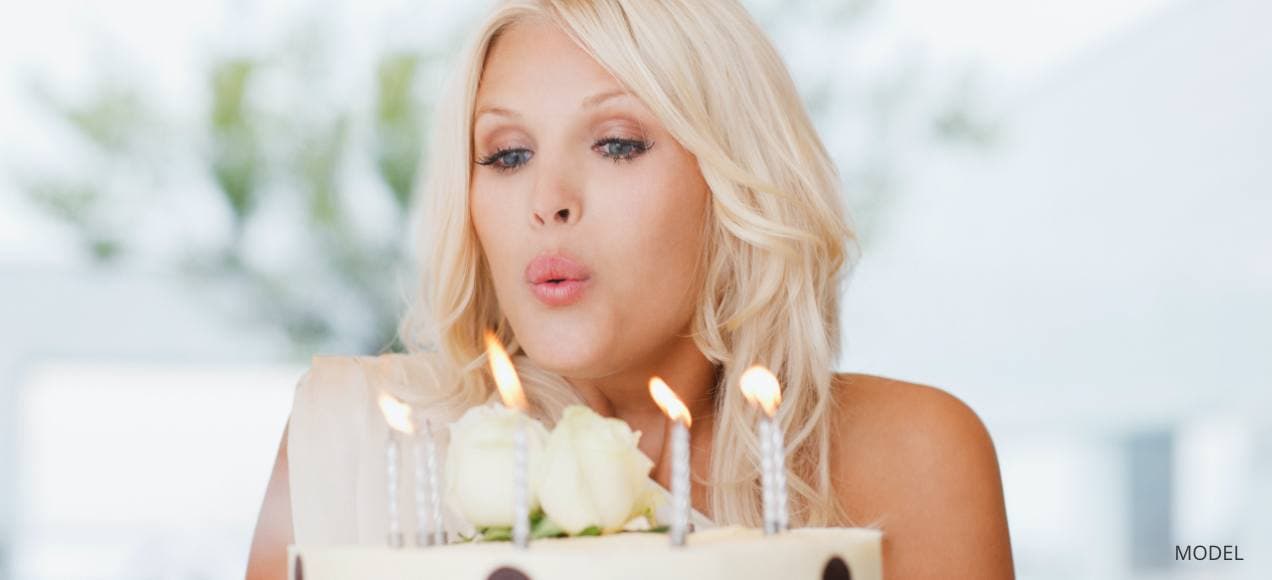 The Center
Birthday Club
Special savings during your birthday month. Come celebrate with us!
Join the Club