Center for Plastic Surgery Ann Arbor
5333 McAuley Drive, Suite 5001
Ypsilanti, MI 48197
Phone: (734) 712-2323
Monday–Friday: 9 a.m.–5 p.m.

Just for Men
The number of people undergoing cosmetic procedures has significantly increased over the years, as more and more are discovering the benefits of aesthetic enhancement. Men are a large part of this group seeking surgical and nonsurgical cosmetic treatment to help them look as good as they feel. Just as women want to reduce the signs of aging and address other aesthetic concerns, the men who visit us from areas like Plymouth and Ann Arbor also want to look their best. Center for Plastic Surgery Ann Arbor specializes in treatments for the face, neck and body, customizing each procedure to address each unique individual's concerns. Popular male aesthetic enhancement treatments performed at our practice can be found below.
Enlargement of the male breasts, or gynecomastia, can be treated surgically. Gynecomastia is swelling due to a hormonal imbalance and can be present in one or both breasts. It can be caused by a variety of conditions and substances. Depending on the size and shape of the breast, liposuction or male breast reduction surgery may be recommended.
You have worked hard to lose the weight – congratulations! Body contouring is the next step in the journey to a new you. The key to revealing the new shape you've worked hard to create is to remove the excess, loose skin. We can help you develop a plan that fits your goals.
Body contouring may include one or more of these procedures:
Body lift
Thigh lift
Arm lift
Neck lift
Breast/chest skin removal
Sweating excessively under the arms can be embarrassing whether you're making a presentation at work or hanging out with a group of friends. Our surgeons use an innovative liposuction technique called SAFELipo® to reduce excessive underarm sweat and odor indefinitely.
A Reputation Built on Results
Chaeli does a wonderful job!! Always takes her time, THE BEST!!
Center for Plastic Surgery in Ann Arbor is the best surgery center hands down, the anesthesiologist,...
I saw Heather for a HydraFacial and it was fantastic! My skin glowed afterwards! She was efficient...
Brittany is very caring and competent.
If your facial appearance is exhibiting significant signs of age and exhaustion, facelift surgery can give you a more youthful, refreshed look. During the procedure, excess fat and skin will be removed, while underlying muscles and remaining skin are tightened and smoothed out.
Male blepharoplasty (eyelid surgery) is one of the most popular plastic surgery procedures for men. Eyes are often one of the first features to show signs of aging, and the development of wrinkles and droopy eyelids can cause men to look more tired and older than they feel. Eyelid surgery can reverse the signs of aging in the eyes by removing excess skin and fatty tissue.
Our doctors are experienced rhinoplasty surgeons, having helped numerous men achieve the nasal shape and contour they desire. Nose surgery can also be very beneficial for those affected by a deviated septum or other functional problems, improving patients' ability to breathe normally through the nose.
Sometimes, excess fat pockets can accumulate in the neck area and have an effect on your entire facial appearance. We offer liposuction for the neck to remove excess fat and help you attain a more contoured shape. Liposuction is often done in conjunction with a neck lift.
Crow's feet, frown lines, nose furrows and other fine lines and wrinkles that gradually set in overtime can be temporarily smoothed out with BOTOX Cosmetic or Dysport. This treatment is the most common non-surgical cosmetic enhancement procedure performed in both men and women.
Injectable dermal fillers are non-surgical solutions for men who would like to reduce the appearance of deep wrinkles and lines along the face. These treatments can also add volume to facial features such as the lips and cheeks, and the results are often long-lasting.
Kybella is the first injectable of its kind to non-surgically reduce the appearance of a double chin. As a popular cosmetic concern, excess fatty tissue under the chin can be significantly reduced by administering the advanced solution of Kybella, which melts away the targeted fat cells to provide a more youthful and contoured neck appearance.
CoolSculpting Elite is a revolutionary non-surgical contouring treatment that freezes stubborn fat, which then is naturally flushed out of your body. No needles, no special diets, no supplements, no surgery. And most importantly, no downtime.
Revitalizing the skin is one of the easiest ways to enhance your appearance. From sun damage to wrinkles to scars, ablative skin resurfacing can help restore healthy, more youthful-looking skin. The treatment has seen a dramatic increase in male patients over the last 10 years. Patients of our Ann Arbor practice can choose from chemical peels, laser resurfacing and dermabrasion. Skin resurfacing procedures are typically designed to remove the outer layer of dead skin cells, revealing the healthier skin underneath. These procedures can reduce signs of age and skin damage, as well as improve areas of discoloration and give your skin a revitalized tone and texture. Read Rob's Story.
At Center for Plastic Surgery Ann Arbor, we look forward to helping you achieve your aesthetic goals. Please request your consultation with our easy-to-use online form or call our office at (734) 712-2323 to schedule your visit.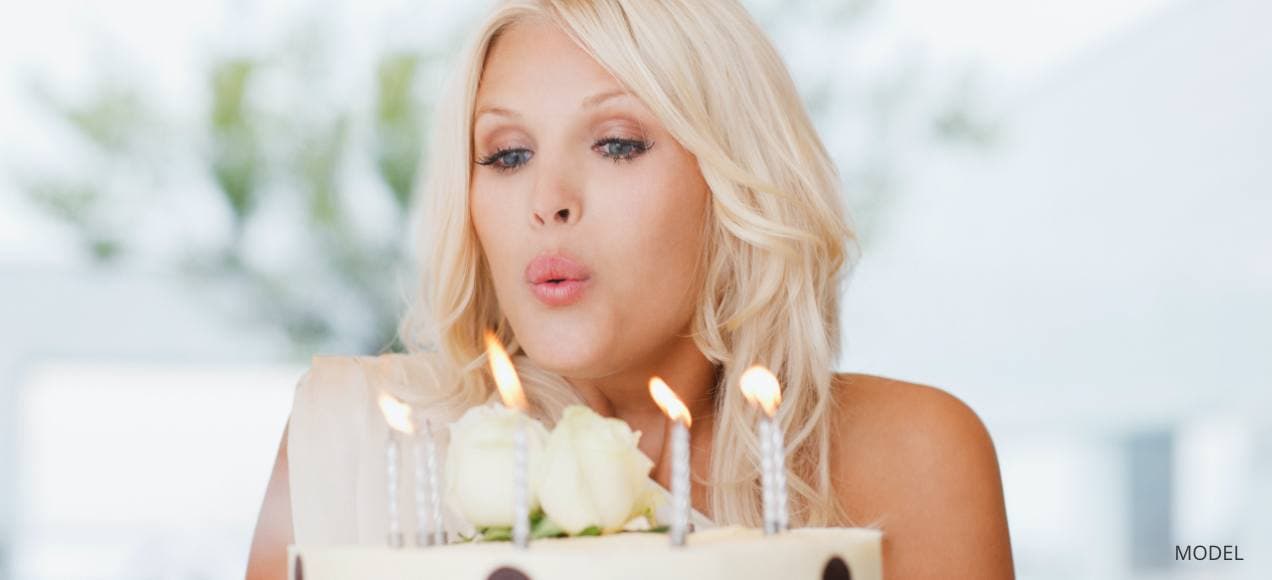 The Center
Birthday Club
Special savings during your birthday month. Come celebrate with us!
Join the Club