Center for Plastic Surgery Ann Arbor
5333 McAuley Drive, Suite 5001
Ypsilanti, MI 48197
Phone: (734) 712-2323
Monday–Friday: 9 a.m.–5 p.m.

Our Surgical Facility
Your safety is our highest priority. Board-certified plastic surgeons Dr. Beil and Dr. Sherick perform most cosmetic plastic surgery procedures in our state-of-the-art, on-site operating suite near Ann Arbor. In doing so, our surgeons ensure your surgery takes place in a clean, relaxing, discreet environment that offers the same standards of safety and preparedness as a hospital or surgery center. It is fully accredited by the American Association for Accreditation of Ambulatory Surgery Facilities (AAAASF).
The only on-site surgical suite of its kind in the Ann Arbor area, our plastic surgery facility offers exceptional convenience and privacy. You won't need to drive out of the way to enjoy a safe surgery and a smooth, stress-free experience from start to finish.
Some restrictions may apply depending on your health and the complexity of your procedure.

Why AAAASF Accreditation Matters
For a facility to receive accreditation by the AAAASF, it must meet the same rigorous standards for cleanliness, equipment maintenance, staff qualification, and ethical practice that you would receive if you were having your plastic surgery performed in the hospital. Highly respected for its strict requirements and thorough facility evaluation process, AAAASF accreditation is considered the "Gold Standard" for ensuring patient safety in outpatient surgery.
Facility & Staff Preparedness
The facility and its staff must demonstrate the ability to respond fully and swiftly to any emergencies that may arise. You can feel confident that your surgeon and O.R. staff are taking every necessary precaution to minimize your risk of infection, anesthesia side effects, and other preventable complications.
Qualified Surgeons
AAAASF accreditation requires that the plastic surgeon performing your surgery has privileges to perform the same procedure in the hospital, where he or she is subject to peer evaluation. This provides an additional layer of assurance that your surgeon is skilled and experienced in the specific procedure you are undergoing.
Highest Standards in Safety
The AAAASF performs regular audits of all of its certified facilities to ensure the safest standards and practices are in place.
The Only Facility of Its Kind in Ann Arbor
In addition to providing a safe setting for surgery, our private operating suite offers a higher level of convenience than any other facility in the area. It's not uncommon for patients at other practices to have to drive an hour or more out of the way to an off-site facility for surgery. Our suite is located right in our building on the St. Joe's Mercy Ann Arbor campus, so your consultation, surgery, and follow-ups will all take place in the same accessible location.
Accommodations
The 30-bed McAuley Inn allows local and out-of-town plastic surgery patients and their loved ones to stay right on campus, so you can avoid a long drive to an early morning appointment or stay in a comfortable room with hotel-like amenities after surgery. Visit the McAuley Inn's website for details.
Room Features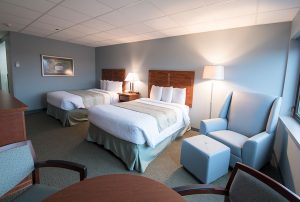 Barrier-free access
Cable
Double beds
Adjoining rooms
Handicapped-accessible room with pull-out bed
Telephone
Private baths with hairdryers and towels/toiletries
In-room refrigerators
Complimentary Services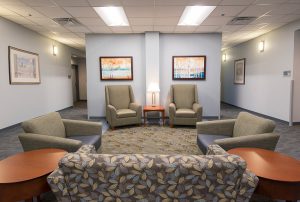 Coffee and tea
Convenient parking
Computer/printer
Crib (available upon request)
Ice machine
Laundry facilities (detergent available for purchase)
Shuttle service to all locations on the St. Joe's Mercy Ann Arbor campus
We strive to provide a safe and uneventful plastic surgery experience so you can enjoy your results without hassle or worry. If you have any questions about our facilities or planning your procedure, please call us at (734) 712-2323. Or, if you are ready to get started, please request a consultation online or by phone.