Center for Plastic Surgery Ann Arbor
5333 McAuley Drive, Suite 5001
Ypsilanti, MI 48197
Phone: (734) 712-2323
Monday–Friday: 9 a.m.–5 p.m.

Dermal Fillers
Dermal fillers are safe, natural products that provide a variety of improvements with just a few quick injections. At the Center for Plastic Surgery Ann Arbor, we use these popular treatments to correct facial wrinkles, restore volume to the cheeks, define the lips, and more. Our dermal fillers require no pretesting for sensitivity because they don't contain animal products.
Our highly trained and experienced injection team, which includes board-certified plastic surgeons, a physician assistant, and registered nurses, provides our dermal filler patients in Ann Arbor a superior level of care and expertise that is not typically found in our area.
Dermal Filler Options
JUVÉDERM®
The JUVÉDERM family of fillers is made with hyaluronic acid (HA), a natural substance that helps the skin retain moisture, and gives it firmness and elasticity. JUVÉDERM is offered in a variety of formulations, including JUVÉDERM® XC, JUVÉDERM® Ultra, and JUVÉDERM VOLLURE™. These treatments are commonly used to smooth out facial folds and wrinkles, and sculpt the lips. The results are instant with little to no downtime and last up to one year. All JUVÉDERM formulations contain lidocaine for minimum discomfort during treatment.
JUVÉDERM VOLUMA® XC
VOLUMA is the first filler FDA approved to correct age-related volume loss in the cheek area. Most people lose volume in the cheeks as they age. This flattening effect in the cheeks can be seen in the lower face as well as the overlying skin tends to droop and sag. While VOLUMA lifts and fills out the cheeks, it also reduces the amount of filler needed around the mouth. In addition, restoring cheek volume and smoothing away facial folds usually provides a more natural look than addressing the mouth area alone. The benefits of VOLUMA are instant and may last as long as 2 years depending on individual factors.
JUVÉDERM VOLUMA is injected directly into the cheek area. These treatments involve minimal discomfort because, like the other JUVÉDERM fillers, VOLUMA contains a small amount of numbing medicine. We offer other methods as well to make the treatment as comfortable as possible.
Restylane®
This family of fillers includes Restylane®, Restylane-L®, Restylane Lyft®, Restylane Silk®, and Restylane Kysse®. Each is a clear gel formulation of hyaluronic acid that is specifically created to act like your body's own naturally produced hyaluronic acid, helping to instantly and visibly reduce moderate to severe facial wrinkles and folds or add fullness to your lips. Lidocaine is integrated into these products to create a more comfortable treatment.
Look Younger Without Surgery
10 Anti-Aging Tips
Lip Fillers
Lip augmentation is one of the most popular filler treatments we perform. Our injectors can use fillers to restore volume to lips that have thinned with age or to enhance the fullness and shape of lips that are naturally thin. Advanced filler formulations, such as Restylane Kysse, are designed to add volume to the lips and are also more flexible, so your lips look natural when they move.
What Is a 'Liquid Facelift'?
The combination of BOTOX® Cosmetic and dermal fillers is often used to achieve optimal results by addressing different concerns. BOTOX, and its newer alternative Dysport®, treat lines and wrinkles caused by the repeated contractions of facial muscles instead of replacing volume within the skin. Both types of treatment involve minimal discomfort and little to no recovery time.
A Reputation Built on Results
Outstanding services, top notch professionals, welcoming staff, accommodating financial plans. Highly...
Received some filler from Patty. She was awesome and made excellent suggestions. I am VERY pleased...
I have been a patient at CPRS for years. Their staff and work is second to none. This is truly the place...
Chaeli does a wonderful job!! Always takes her time, THE BEST!!
Dermal Filler FAQs
How long do fillers usually last?
How long your results last depends on the filler or fillers used during the treatment. Hyaluronic acid-based fillers, such as the Restylane and JUVÉDERM product lines, generally last from 9 to 18 months. JUVÉDERM VOLUMA, for example, may last longer than 18 months. Biostimulator fillers, such as Sculptra® Aesthetic, can last up to 2 years because they stimulate collagen production even as the filler is absorbed by the body.
What's the best age for fillers?
Fillers work well for patients who notice early signs of aging, which can occur at different ages. We often see patients in their 30s or early 40s who want fillers to minimize wrinkles. We can also use fillers for younger patients who want to change the contours of certain facial features, including their noses, cheeks, and lips.
Is JUVÉDERM better than BOTOX?
JUVÉDERM and other fillers are used to diminish different types of wrinkles than those targeted by BOTOX, which is why we often combine filler injections with BOTOX. For example, you might want BOTOX to treat crow's feet and JUVÉDERM to smooth nasolabial folds.
How long does it take to see the full results of JUVÉDERM?
The results of JUVÉDERM and other fillers are almost immediate, although some swelling and bruising might conceal the changes for a couple of days.
How long does it take to heal after getting dermal filler injections?
Bruising can take 2 or 3 days to dissipate, and swelling typically resolves within 24 to 48 hours. You can minimize these side effects by avoiding the use of blood thinning medications (Motrin, aspirin, St. John's Wort, and fish oil) for 2 weeks before the treatment and using cold compresses following the procedure.
Your Next Step
At Center for Plastic Surgery Ann Arbor, we look forward to helping you achieve your aesthetic goals. Please request your consultation with our easy-to-use online form or call our office at (734) 712-2323 to schedule your visit.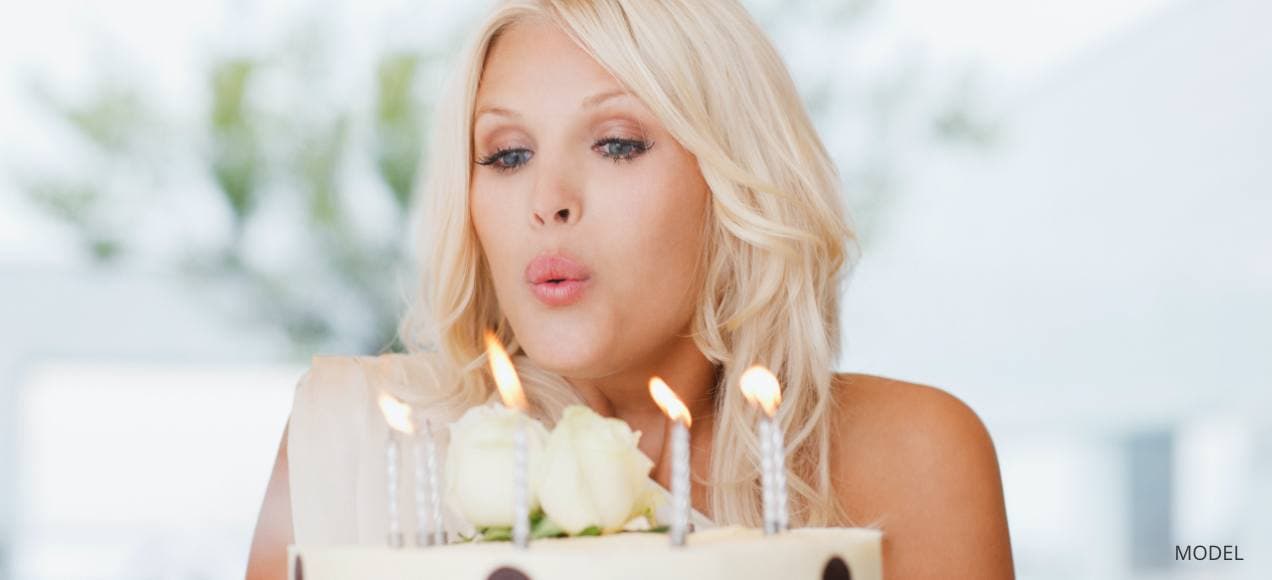 The Center
Birthday Club
Special savings during your birthday month. Come celebrate with us!
Join the Club