Center for Plastic Surgery Ann Arbor
5333 McAuley Drive, Suite 5001
Ypsilanti, MI 48197
Phone: (734) 712-2323
Monday–Friday: 9 a.m.–5 p.m.

Body Contouring After Weight Loss
You've done the hardest part– you've lost a substantial amount of weight. Now, you're eating well and exercising to maintain your healthier look. But if you're like others who have lost 50 to 100 pounds or more in a short period of time, your skin may not conform to your new shape.
You may be a candidate for body contouring after weight loss if you have:
Loose, hanging folds of skin
Skin irritation or rash
Hygiene problems
Trouble getting clothes to fit well
Difficulty exercising and performing daily activities
Back pain
Hernia
Poor self-image
Our board-certified plastic surgeons have years of experience in body contouring after weight loss procedures, refining traditional techniques to achieve dramatic results.
Our Unique Approach
Just as no two people lose weight in the same way, our approach to body contouring is as individual as you are. Achieving optimum results often requires us to address the contour of your entire body, not just an isolated problem area.
We will determine the most appropriate procedures for you through an extensive, confidential consultation. Together, we will choose body and facial techniques to tighten your skin and smooth stubborn areas such as the abdomen, chest, thighs, buttocks, arms and neck.
Meet Our Surgeons
Our board-certified plastic surgeons have more than 50 years of combined experience in all facets of cosmetic and reconstructive surgery. As a qualified and compassionate team, they share a goal of providing a safe and rewarding plastic surgery experience while creating exceptional results worthy of your trust.
Credentials You Can Trust

Body Contouring
Most weight loss patients require a body lift to restore the body's shape, skin appearance, and skin tone. No other method of body contouring is more effective in restoring shape and tone than a body lift. Other body contouring procedures can be performed separately or within the same surgical session as a body lift.
Your unique treatment plan may involve a combination of procedures for the upper body, lower body, and face.
Options include:
Depending on the areas involved, your surgeon may recommend a staged approach that involves multiple surgeries performed several weeks apart.
"After a quick and substantial weight loss, I chose to have body contouring procedures. Asked if I would do it again, my response is: 'In a heartbeat.'"
Recovery and Healing
Body contouring after weight loss has a typical recovery and healing process, but each person responds to surgery differently. After surgery, you'll receive care instructions to speed healing and enhance your comfort. Throughout the recovery process, we will follow up to answer any questions you may have and to ensure the best possible outcome.
Learn more about the recovery process following a procedure here.
"After a great deal of research, I decided on a surgeon from Center for Plastic Surgery Ann Arbor. The entire experience exceeded every expectation I had."
Weight Loss Timeline
What will your body contouring journey look like? Most patients follow this general timeline:
9-12 Months: Follow up with bariatric surgeon or primary care physician and consultation with a plastic surgeon for body contouring
13 Months: Schedule surgery and begin insurance authorization
15-16 Months: First body contouring surgery performed
19+ Months: Second surgery performed (may include cosmetic procedures)
"After a lifetime of struggle, I finally have the body I've always wanted."
A Reputation Built on Results
Chaeli does a wonderful job!! Always takes her time, THE BEST!!
Center for Plastic Surgery in Ann Arbor is the best surgery center hands down, the anesthesiologist,...
I saw Heather for a HydraFacial and it was fantastic! My skin glowed afterwards! She was efficient...
Brittany is very caring and competent.
Frequently Asked Questions
Q: How soon after weight loss should I schedule body contouring procedures?
A: Typically, you will have a follow-up appointment with your surgeon or primary care physician about one year after bariatric surgery or substantial weight loss. This is also an ideal time to make an appointment for an initial consultation about body contouring.
During your first consultation, we will listen to learn more about your treatment to date and goals for the future. We will explain your options in detail and give you information to take home and consider.
Q: Does insurance cover body contouring?
A: Certain procedures may be covered to correct conditions such as skin irritation and rash, hygiene problems, and back pain.
While we no longer participate with insurance, we do offer a self-pay option to give patients the opportunity to receive insurance benefits for medically necessary procedures. With the self-pay option, patients have their procedure performed in the hospital by our physicians. Patients pay upfront for physician fees and are responsible for initiating the reimbursement request with their insurance company. If you have questions or would like to explore this option, please call us at (734) 712-2323.
Q: Do I need to lose more weight before surgery?
A: Ideally, you should be within 10 to 15 pounds of your target weight before body contouring. Typically, contouring procedures can be scheduled about 1 year after your bariatric surgery and/or weight loss; other procedures can be scheduled 3 to 4 months after your first procedure.
Q: How do I maintain my new look?
A: It is essential to continue your commitment to exercise and proper nutrition. Your body will continue to change and adapt, and you may experience hair loss and changes in your skin such as uneven tone and texture, dryness, and sudden breakouts. Vitamin supplements and nutritional counseling are important, as is a proper skin care regimen.
Our skilled skin care specialists can design a program of at-home and in-office services to treat common skin problems after weight loss and improve the overall health and appearance of your skin.
Your Next Step
At Center for Plastic Surgery Ann Arbor, we look forward to helping you achieve your aesthetic goals. Please request your consultation with our easy-to-use online form or call our office at (734) 712-2323 to schedule your visit. Our consultation fee for both virtual and in-person consultations is $125, which is applied to the cost of surgery if you choose to move forward with the procedure.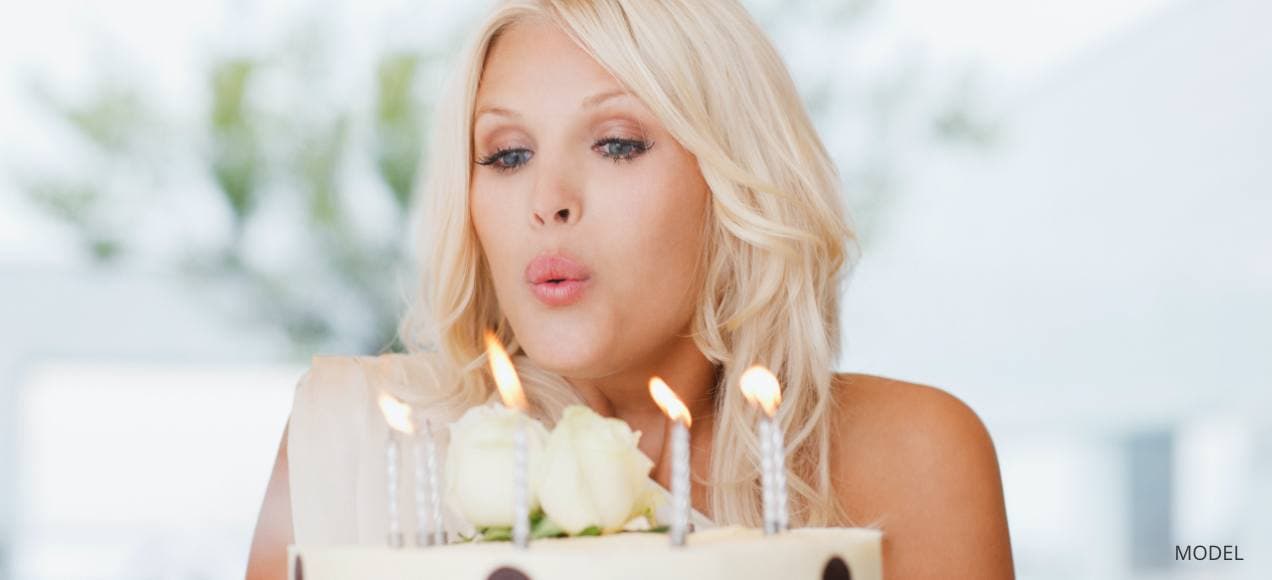 The Center
Birthday Club
Special savings during your birthday month. Come celebrate with us!
Join the Club