Center for Plastic Surgery Ann Arbor
5333 McAuley Drive, Suite 5001
Ypsilanti, MI 48197
Phone: (734) 712-2323
Monday–Friday: 9 a.m.–5 p.m.

Brow Lift
A heavy brow area can make you look tired, angry, or older than you'd like. The board-certified plastic surgeons at Center for Plastic Surgery Ann Arbor can help you look naturally refreshed and rejuvenated with a brow lift in Ann Arbor.
Indications
Sagging forehead or brows that hang too low and crowd the upper eyelid
Deep furrows on the forehead and between the eyebrows
Intended Result
Results of a forehead lift are a more youthful and rested appearance to the forehead and upper eyelids
Brow Lift

Before & After Photos
Before & After
Keep in mind that each patient is unique and your results may vary.
How Much Does a Brow Lift Cost in Ann Arbor, MI?
The cost of a brow lift at our Ann Arbor practice ranges from $3,820 to $7,922. The price varies depending on the extent of the procedure and the technique used by the surgeon. We offer flexible payment plans to help you achieve your goals.
If you're considering combining a brow lift with other procedures, you can see the costs on our plastic surgery pricing page.
The price of your surgery includes:
Surgeon's fees
Anesthesia fees
Operating facility fees
Residents considering a brow lift in Plymouth, Canton, Chelsea, and surrounding areas can get detailed quotes after consulting with one of our surgeons.
How Is a Brow Lift Performed?
A brow lift (or forehead lift) is performed on an outpatient basis under sedation with local anesthesia.
Brow lift techniques include:
Endoscopic brow lift: Several short incisions are placed in the hairline. The operation is performed using an endoscope (a narrow, hollow instrument with a fiber-optic light source and camera. The surgeon uses small instruments specially designed to fit under the forehead. The forehead tissue is lifted and re-positioned, and the muscles that cause frown lines are weakened or partially removed.
Coronal brow lift: The incisions are usually made behind the hairline. For patients with high foreheads, the incisions may be placed in front of the hairline.
Additional procedures that may enhance the result:
Meet Our Surgeons
Our board-certified plastic surgeons have more than 50 years of combined experience in all facets of cosmetic and reconstructive surgery. As a qualified and compassionate team, they share a goal of providing a safe and rewarding plastic surgery experience while creating exceptional results worthy of your trust.
Credentials You Can Trust

What Is Brow Lift Recovery Like?
With a forehead lift, the patient leaves the recovery area with the head wrapped in dressings, which are usually removed on the first or second day after surgery. Initial discomfort is usually controlled with oral medication.
Sutures or staples are removed within 5 to 7 days. Most swelling and bruising are gone within 7 to 10 days but may last for several weeks. Camouflage makeup is available to temporarily conceal any redness or bruising once the sutures have been removed.
Learn more about recovery time following a procedure here.
A Reputation Built on Results
Chaeli does a wonderful job!! Always takes her time, THE BEST!!
Center for Plastic Surgery in Ann Arbor is the best surgery center hands down, the anesthesiologist,...
I saw Heather for a HydraFacial and it was fantastic! My skin glowed afterwards! She was efficient...
Brittany is very caring and competent.
Insurance Guidelines
If a brow lift or forehead lift is being done to improve the field of vision, insurance may cover the surgery. Otherwise, the surgeries are considered cosmetic procedures and the patient is responsible for payment.
While we no longer participate with insurance, we do offer a self-pay option to give patients the opportunity to receive insurance benefits for medically necessary procedures. With the self-pay option, patients have their procedure performed in the hospital by our physicians. Patients pay upfront for physician fees and are responsible for initiating the reimbursement request with their insurance company. If you have questions or would like to explore this option, please call us at (734) 712-2323.
Your Next Step
At Center for Plastic Surgery Ann Arbor, we look forward to helping you achieve your aesthetic goals. Please request your consultation with our easy-to-use online form or call our office at (734) 712-2323 to schedule your visit. Our consultation fee for both virtual and in-person consultations is $125, which is applied to the cost of surgery if you choose to move forward with the procedure.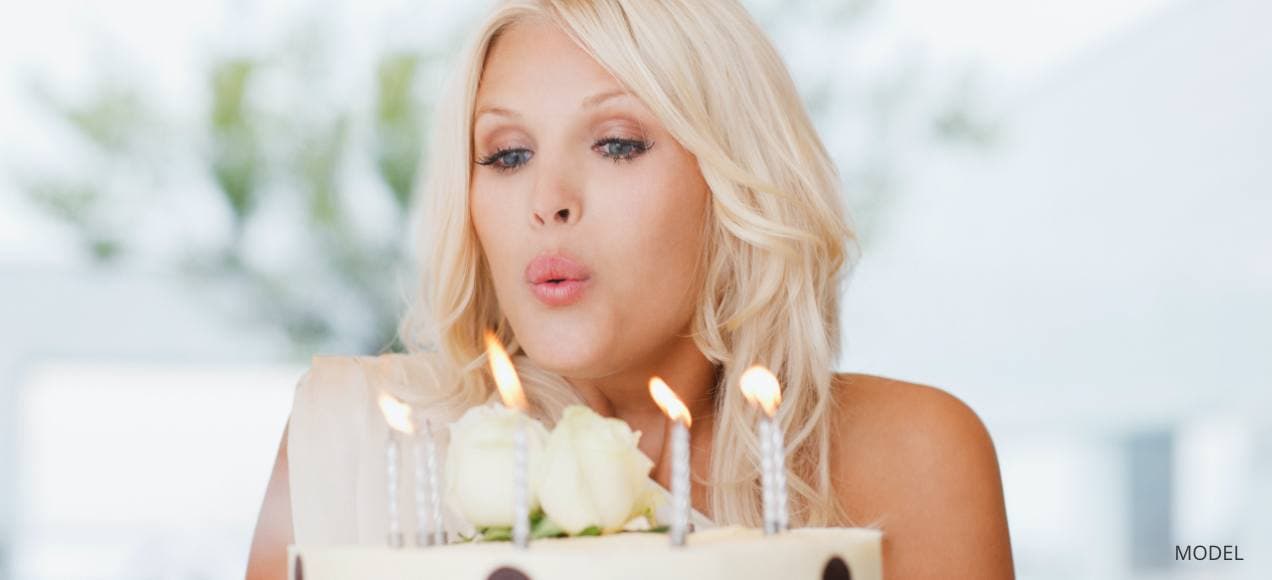 The Center
Birthday Club
Special savings during your birthday month. Come celebrate with us!
Join the Club