Center for Plastic Surgery Ann Arbor
5333 McAuley Drive, Suite 5001
Ypsilanti, MI 48197
Phone: (734) 712-2323
Monday–Friday: 9 a.m.–5 p.m.

Rhinoplasty for Men
Rhinoplasty can help create facial harmony by reshaping the proportions of the nose. This procedure can also improve impaired breathing caused by a deviated septum or other structural issues in the nose. Also called nose reshaping or a nose job, rhinoplasty is the choice of many men from Ann Arbor, Canton, and Plymouth who want to improve the appearance of their nose for a more masculine and attractive look.
Who Is a Rhinoplasty Candidate?
Men who are unhappy with their nose or feel that it is not in proportion with their other facial features can often benefit from a rhinoplasty.
Common concerns for men include:
Nasal asymmetry
Nostrils that are too large
A large, drooping, or hooked nasal tip
Humps and depressions on the bridge of the nose
Ideal candidates are healthy, non-smokers with realistic expectations for the outcome of their procedure. A consultation with one of our board-certified plastic surgeons can help to determine if this procedure is right for you.
How Is Rhinoplasty Performed?
The rhinoplasty procedure is an outpatient surgery done under local anesthesia with sedation or general anesthesia.
When it comes to rhinoplasty, there are two methods that can be used:
Open rhinoplasty: Performed through an incision across the tissue located in between the nostrils called the columella.
Closed rhinoplasty: All incisions are made inside of the nose.
Regardless of where the incisions are placed, tissues and cartilage are reshaped. In the case of a deviated septum, the septum will be straightened and any nasal obstructions that have caused breathing problems will be removed.
Meet Our Surgeons
Our board-certified plastic surgeons have more than 50 years of combined experience in all facets of cosmetic and reconstructive surgery. As a qualified and compassionate team, they share a goal of providing a safe and rewarding plastic surgery experience while creating exceptional results worthy of your trust.
Credentials You Can Trust

What Is Recovery Like After Rhinoplasty?
Rhinoplasty patients will return home after surgery with an external cast or splint in place to help ensure proper healing. The cast or splint can be removed 1 to 2 weeks after surgery. Any sutures will be removed after 4 to 7 days. Swelling and discomfort may occur, which can be controlled with oral medication. Swelling and bruising will subside over the next 2 to 4 weeks.
When Will I See My Final Rhinoplasty Results?
Most patients will notice an improvement in their nasal appearance after 3 months as swelling fades, with final results becoming apparent after 12 to 14 months.
A Reputation Built on Results
Chaeli does a wonderful job!! Always takes her time, THE BEST!!
Center for Plastic Surgery in Ann Arbor is the best surgery center hands down, the anesthesiologist,...
I saw Heather for a HydraFacial and it was fantastic! My skin glowed afterwards! She was efficient...
Brittany is very caring and competent.
Insurance Information
Nose reshaping is not covered by insurance if being done for cosmetic reasons. The patient is responsible for payment. If the nasal deformity is due to a recent injury, insurance coverage may be available.
While we no longer participate with insurance, we do offer a self-pay option to give patients the opportunity to receive insurance benefits for medically necessary procedures. With the self-pay option, patients have their procedure performed in the hospital by our physicians. Patients pay upfront for physician fees and are responsible for initiating the reimbursement request with their insurance company. If you have questions or would like to explore this option, please call us at (734) 712-2323.
Your Next Step
At Center for Plastic Surgery Ann Arbor, we look forward to helping you achieve your aesthetic goals. Please request your consultation with our easy-to-use online form or call our office at (734) 712-2323 to schedule your visit.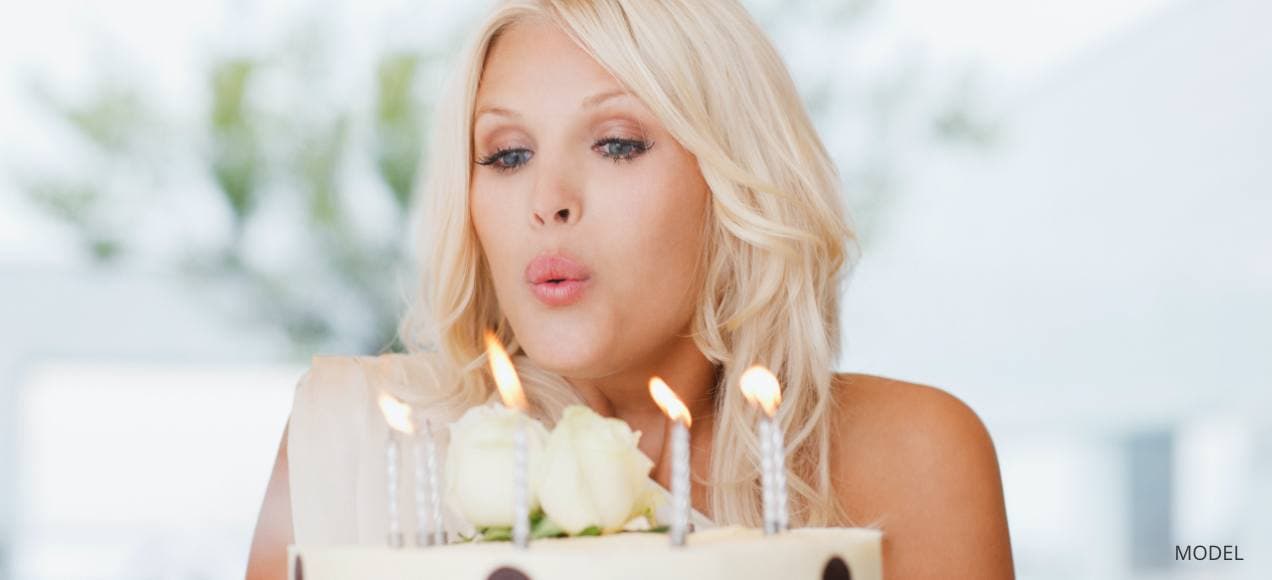 The Center
Birthday Club
Special savings during your birthday month. Come celebrate with us!
Join the Club