Center for Plastic Surgery Ann Arbor
5333 McAuley Drive, Suite 5001
Ypsilanti, MI 48197
Phone: (734) 712-2323
Monday–Friday: 9 a.m.–5 p.m.

Mommy Makeover
In Ann Arbor and surrounding communities, a growing number of women are undergoing plastic surgery to restore their breasts and bodies after pregnancy, childbirth, and breastfeeding. These combination procedures, called mommy makeover surgery, usually include breast enhancement, a tummy tuck, and liposuction. The board-certified plastic surgeons at Center for Plastic Surgery Ann Arbor have years of experience performing mommy makeover procedures to help moms look and feel like themselves again after having children.
"A mommy makeover is a combination of procedures that helps our patients regain their pre-pregnancy figures and enhance self-confidence. It is common to perform a breast augmentation and lift, a tummy tuck, and a little liposuction all at the same time."
A Reputation Built on Results
Chaeli does a wonderful job!! Always takes her time, THE BEST!!
Center for Plastic Surgery in Ann Arbor is the best surgery center hands down, the anesthesiologist,...
I saw Heather for a HydraFacial and it was fantastic! My skin glowed afterwards! She was efficient...
Brittany is very caring and competent.
Ideal Candidates for Mommy Makeover Surgery
Even though the combination of procedures typically included in a Mommy Makeover is designed to address physical changes associated with pregnancy, women who have never had children may also be good candidates for the procedure. Ideal candidates feel self-conscious about their bodies, have a body mass index (BMI) of 30 or lower, are non-smokers, and are in good overall health.
Mommy Makeover Procedures
Learn more about the mommy makeover procedures our surgeons perform:
Mommy Makeover Recovery
One of the benefits of undergoing Mommy Makeover surgery is that you only have to plan for a single recovery period. Recovering from multiple cosmetic surgery procedures, however, can be uncomfortable and it's important to know what to expect. Even though the combination of procedures varies from patient to patient, some general guidelines apply.
A tummy tuck requires the most time to recover compared to the other procedures typically included in a Mommy Makeover. That means you should plan to take at least 2 weeks off from work and ensure that you have a reliable support system available to help you with chores, meals, and child care.
Learn more about the recovery process following a procedure here.
Meet Our Surgeons
Our board-certified plastic surgeons have more than 50 years of combined experience in all facets of cosmetic and reconstructive surgery. As a qualified and compassionate team, they share a goal of providing a safe and rewarding plastic surgery experience while creating exceptional results worthy of your trust.
Credentials You Can Trust

Mommy Makeover FAQs
What's the ideal weight for a mommy makeover?
Our surgeons recommend that you're at the weight you intend to maintain before you schedule your surgery. You should also have a body mass index (BMI) of 30 or less because the risk of complications increases for patients with a BMI higher than 30.
What happens if I lose weight after my surgery?
Dramatic weight fluctuations can compromise the results of your procedure. Losing a significant amount of weight could result in having loose skin or sagging breasts. That's why we encourage patients to be at or near a comfortable weight before scheduling their surgery.
Is the surgery worth it?
Whether cosmetic surgery is worth it is a question only you can answer. We can say that patients often say they wish they had a Mommy Makeover earlier because the results are so transformative.
Is there anything I should do to prepare for my surgery?
We provide detailed instructions for how to prepare for your procedure. This includes quitting smoking if you're a smoker, stopping certain medications, and preparing for your recovery by having a support system in place.
How many pounds do you lose with a mommy makeover?
A mommy makeover is not intended to be weight loss surgery. If liposuction is one of the procedures included in your procedure, you may lose 2 to 4 pounds.
What should I avoid after surgery?
Because most mommy makeover procedures involve a tummy tuck, you should avoid lifting anything during the first 2 weeks of your recovery, including small children. You should also limit your activity to brief walks as you heal. Our surgeons provide a detailed list of post-op instructions that are important to closely follow during your recovery.
Your Next Step
At Center for Plastic Surgery Ann Arbor, we look forward to helping you achieve your aesthetic goals. Please request your consultation with our easy-to-use online form or call our office at (734) 712-2323 to schedule your visit. Our consultation fee for both virtual and in-person consultations is $125, which is applied to the cost of surgery if you choose to move forward with the procedure.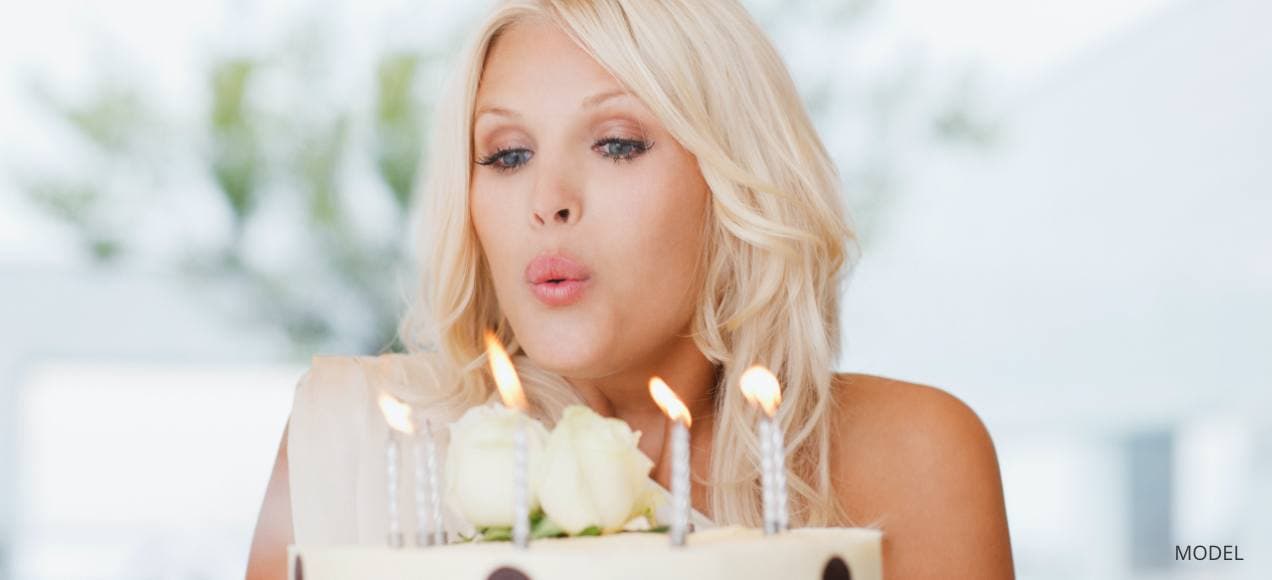 The Center
Birthday Club
Special savings during your birthday month. Come celebrate with us!
Join the Club