Center for Plastic Surgery Ann Arbor
5333 McAuley Drive, Suite 5001
Ypsilanti, MI 48197
Phone: (734) 712-2323
Monday–Friday: 9 a.m.–5 p.m.

Out-of-Town Patients
Choosing your plastic surgeon is a very personal choice. In many cases, it is also a very private matter. At Center for Plastic Surgery Ann Arbor, we respect our patients' privacy and understand that traveling outside of your community to ensure a more discreet process may be just the thing you need to put your mind at ease. Of course, your safety and desired outcome are also priorities, regardless of where you are traveling from.
Our practice is nationally recognized for its superior medical care and creative minds – home to world-renowned University of Michigan Health System (Go Blue!), Trinity Health Ann Arbor Hospital, and the Original Ann Arbor Street Art Fair. We strive for both medical and artistic excellence in every aspect of our patient care. Patients travel from all over the country to our surgery center to benefit from the expertise of our team of board-certified plastic surgeons.
Scheduling
Creative scheduling is something we are good at, so we always do our best to accommodate your travel needs without compromising your care. The number of visits required and timing of these visits will be determined after an initial phone consultation with one of our patient representatives. Each operation is unique, so the details of your procedure must be considered to ensure the most efficient scheduling process.
Arrival
We are excited to welcome you to Ann Arbor! We are conveniently located less than 30 minutes west of Detroit Metro Airport (DTW), a premier Delta hub and just east of the thriving University of Michigan campus and downtown Ann Arbor. Our practice is located on the campus of Trinity Health Ann Arbor Hospital and proudly offers patients the safety and privacy of our own fully accredited Cosmetic Surgery Center and an all-inclusive Medical Spa. Your travel companion may choose to take advantage of a HydraFacial MD treatment during your procedure!
Accommodations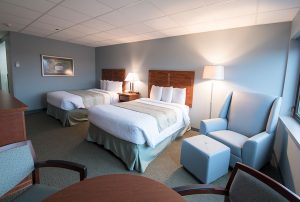 The night of your surgery, you and your guest will stay at the McAuley Inn, which is attached to the hospital. This 30-bed inn allows you to stay right on the hospital campus, so you can avoid a long drive to an early morning appointment or stay after your surgery in a comfortable room with hotel-like amenities.
Room Features:
Barrier-free access
Cable
Double beds
Adjoining rooms
Handicap-accessible room with pull-out bed
Telephone
Private baths with hairdryers and towels/toiletries
In-room refrigerators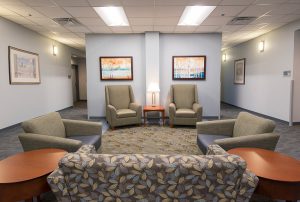 Complimentary Services:
Ice machine
Laundry facilities (detergent available for purchase)
Shuttle service to all locations on the Trinity Health Ann Arbor Hospital campus
Coffee/tea
Convenient parking
Computer/printer
Crib (available upon request)
For the remainder of your stay, we recommend the following hotels:
Experience Ann Arbor
We recommend traveling with a friend or family member – they may choose to enjoy some of the amenities of Ann Arbor while you are recovering. The art scene, culinary flavor and U of M spirit are always abundant. Check out visitannarbor.org/ for more information.
Here are some of our specific recommendations:
Dr. Beil recommends: A University of Michigan Hockey game (never a dull moment) and dinner at The Earle.
Dr. Sherick recommends: A walk along the Huron River and a picnic in the Nichols Arboretum and Modern Spanish Tapas at Aventura.
Some staff favorites:
DOWNLOAD CENTER for PLASTIC SURGERY ANN ARBOR BROCHURE
At Center for Plastic Surgery Ann Arbor, we look forward to helping you achieve your aesthetic goals. Please request your consultation with our easy-to-use online form or call our office at (734) 712-2323 to schedule your visit.