Center for Plastic Surgery Ann Arbor
5333 McAuley Drive, Suite 5001
Ypsilanti, MI 48197
Phone: (734) 712-2323
Monday–Friday: 9 a.m.–5 p.m.

Eyelid Surgery for Men
At Center for Plastic Surgery Ann Arbor, blepharoplasty, often called eyelid surgery, helps to restore a youthful appearance to the upper or lower eyelids. Sagging eyelids can cause men to look tired and aged. Eyelid surgery can take years off of your appearance by tightening droopy lower eyelids, removing sagging skin, and reducing puffy undereye bags. This surgery can also improve peripheral vision for those patients whose eyelids interfere with vision.
Who Is an Eyelid Lift Candidate?
Men who are unhappy with the appearance of their saggy upper or lower eyelids, or have puffy under eye bags can often benefit from an eyelid lift. Many men choose this procedure to treat or delay signs of facial aging. Healthy, non-smokers with realistic expectations are generally good candidates. A consultation with one of our board-certified plastic surgeons can help to best determine if this procedure is right for you.
The Eyelid Lift Procedure
Before an eyelid lift, patients should avoid certain medications that may complicate the surgery. Patients should also stop smoking at least 6 weeks before surgery.
An eyelid lift is an outpatient procedure performed under local anesthesia with sedation or general anesthesia. An incision will be made in the natural crease of the upper or lower eyelid. Fat may then be redistributed and excess fat and skin removed. In the case of puffy undereye bags, an incision just below the lower lash line can reduce sagging skin and excess fat.
Meet Our Surgeons
Our board-certified plastic surgeons have more than 50 years of combined experience in all facets of cosmetic and reconstructive surgery. As a qualified and compassionate team, they share a goal of providing a safe and rewarding plastic surgery experience while creating exceptional results worthy of your trust.
Credentials You Can Trust

Recovery and Healing
Scarring is a normal outcome of eyelid surgery, though the surgeon will place the incision as inconspicuously as possible. The placement of scars will be discussed during your consultation. Overall, recovery generally takes 7 to 10 days, though may differ with each individual patient. Results are long-lasting, and maintaining a healthy lifestyle can help to ensure appealing effects.
Can Men Have Eyelid Surgery Combined With Other Procedures?
Yes. Other procedures often performed along with an eyelid lift include:
A Reputation Built on Results
Chaeli does a wonderful job!! Always takes her time, THE BEST!!
Center for Plastic Surgery in Ann Arbor is the best surgery center hands down, the anesthesiologist,...
I saw Heather for a HydraFacial and it was fantastic! My skin glowed afterwards! She was efficient...
Brittany is very caring and competent.
Insurance Guidelines
If surgery is being done to improve the field of vision, insurance may cover upper eyelid surgery. Otherwise, eyelid lifts are considered cosmetic procedures and the patient is responsible for payment.
While we no longer participate with insurance, we do offer a self-pay option to give patients the opportunity to receive insurance benefits for medically necessary procedures. With the self-pay option, patients have their procedure performed in the hospital by our physicians. Patients pay upfront for physician fees and are responsible for initiating the reimbursement request with their insurance company. If you have questions or would like to explore this option, please call us at (734) 712-2323.
Your Next Step
At the Center for Plastic Surgery Ann Arbor, we look forward to helping you achieve your aesthetic goals. Please request your consultation with our easy-to-use online form or call our office at (734) 712-2323 to schedule your visit.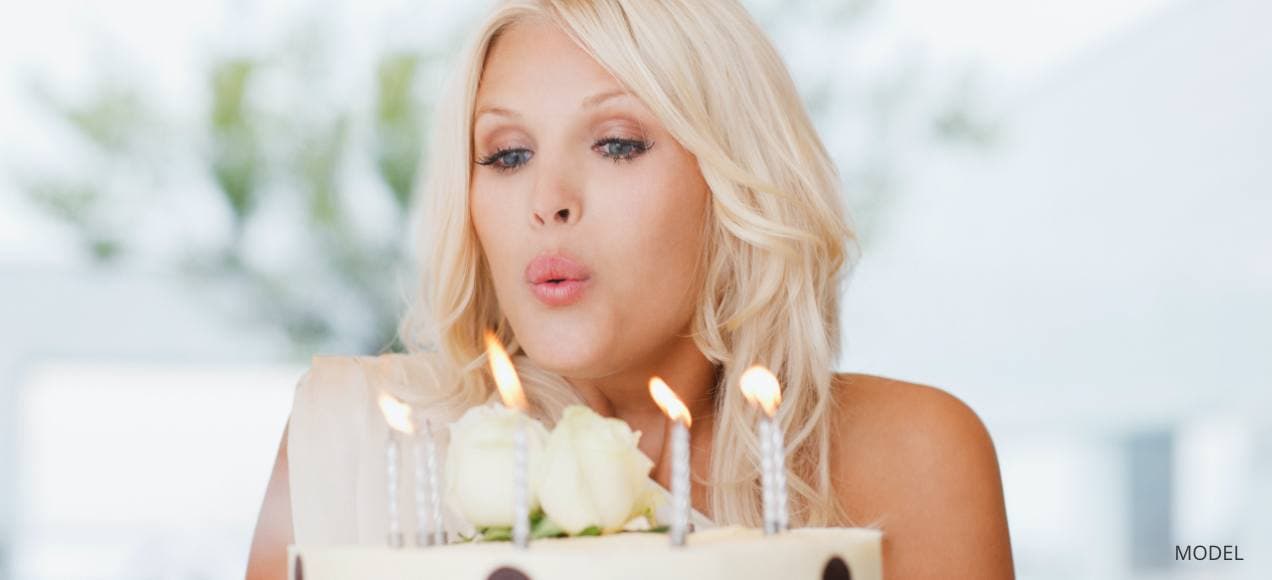 The Center
Birthday Club
Special savings during your birthday month. Come celebrate with us!
Join the Club