Center for Plastic Surgery Ann Arbor
5333 McAuley Drive, Suite 5001
Ypsilanti, MI 48197
Phone: (734) 712-2323
Monday–Friday: 9 a.m.–5 p.m.

CoolSculpting® Elite for Men
CoolSculpting® Elite, popular with men from Plymouth and Ann Arbor, MI, and beyond, is the only FDA-cleared non-invasive treatment that uses cooling technology to address stubborn fat. Both men and women tend to collect fat in different areas, with men counting the abdomen, flanks, and chin as trouble spots. This new version of the CoolSculpting® procedure can target all of these areas and more for a healthier, fitter appearance.
The CoolSculpting Elite procedure is completely non-invasive, meaning there are no needles or anesthesia involved. Special cooling applicators are used to freeze away fat cells. One fat cells are frozen, they die and are naturally removed from the body for good! One treatment session takes between 35 and 75 minutes. Although results will not be as extensive as those of liposuction or a tummy tuck, patients often find that their clothes fit better and they are more confident after the procedure.
What Is CoolSculpting Elite?
CoolSculpting Elite is the next generation of CoolSculpting. It offers the following improvements:
Two applicators for each machine. We can now treat two areas simultaneously.
A suite of new applicators designed for specific areas. With a better fit and design, these applicators make treatments more efficient and more comfortable.
Streamlined machines. Treatment rooms feel roomier than with previous CoolSculpting machines.
Are You a Candidate for CoolSculpting Elite?
Patients who have exercise-resistant fat bulges on their abdomen, flanks, or chin can often benefit from this procedure. The number of treatments needed will vary from patient to patient. Those who have already reached their ideal body weight and only have small areas of unwanted fat may only require one treatment.
It is important to understand that CoolSculpting Elite is not a solution for obesity, and cannot tighten loose or sagging skin. Patients who are overweight and have dense core fat with no bulges (barrel chest or belly) or have loose areas of skin should not receive CoolSculpting.
A Reputation Built on Results
Chaeli does a wonderful job!! Always takes her time, THE BEST!!
Center for Plastic Surgery in Ann Arbor is the best surgery center hands down, the anesthesiologist,...
I saw Heather for a HydraFacial and it was fantastic! My skin glowed afterwards! She was efficient...
Brittany is very caring and competent.
A Cool Fact
Harvard University scientists observed that some children got dimples due to eating popsicles. The idea that cold can selectively affect and eliminate fat cells without damaging the skin or surrounding tissue was the insight behind cryolipolysis, the proven science on which the CoolSculpting procedure is based.
What To Expect After a CoolSculpting Elite Treatment
Because CoolSculpting Elite is a non-invasive procedure, there is little to no downtime associated. Following their treatment, patients may experience temporary discomfort. Common side effects include bruising, redness, swelling, tenderness, cramping, tingling, itching, and numbness. Sometimes, numbness can last for several weeks following the procedure.
Regular exercise will help to maintain your CoolSculpting Elite results. Men should maintain their normal weight with diet and exercise, as weight gain can alter results. After seeing their outcomes, many patients feel more motivated to take care of their body following treatment.
CoolSculpting Before & After Photos
Alternatives to CoolSculpting Elite
If you are not a good candidate for CoolSculpting Elite, our practice offers many alternative procedures. Our surgeons are focused on patient education and safety, and if this procedure is not right for you, we won't do it. Instead, we will direct you towards a procedure that will produce the results you desire in a safe and effective manner.
Meet Our Surgeons
Our board-certified plastic surgeons have more than 50 years of combined experience in all facets of cosmetic and reconstructive surgery. As a qualified and compassionate team, they share a goal of providing a safe and rewarding plastic surgery experience while creating exceptional results worthy of your trust.
Credentials You Can Trust

How Much Does CoolSculpting Elite Cost in Ann Arbor?
At Center for Plastic Surgery Ann Arbor, CoolSculpting Elite is priced per area starting at $800. We are dedicated to offering patients from Plymouth and around Ann Arbor competitive pricing. The majority of patients receive multiple treatments in multiple areas of the body in order to achieve their goal results. A consultation is needed to help create an individualized plan to meet your fat-loss goals.
Frequently Asked Questions
Q: Am I a good candidate?
A: Good candidates have noticeable bulges in certain areas they'd like to get rid of. The CoolSculpting Elite fat reduction procedure is specifically designed for those who have unwanted fat that resists diet and exercise. Unlike gastric bypass surgery, the CoolSculpting Elite procedure is not a weight loss solution for people who are obese. It is, however a non-surgical alternative to liposuction. Request a one-on-one consultation with us to determine if the CoolSculpting Elite procedure is right for you.
Q: How long is each session? How many sessions will I need?
A: We will help you create an individualized treatment plan tailored to your specific goals. The length of your CoolSculpting Elite session will vary depending on the number of areas being treated during one visit. We may schedule additional sessions in order to meet your goals.
Q: Where does the fat go? Are the results permanent?
A: Once the treated fat cells are crystallized (frozen), your body processes the fat and flushes away these dead cells. Once the treated fat cells are gone, they're gone for good1.
Q: What does it feel like?
A: As the cooling begins during the first few minutes, you will feel pressure and intense cold. This soon dissipates. Many people read, watch videos, work on their laptop, or even take a nap during their treatment.
Q: Is the CoolSculpting Elite procedure safe?
A: The CoolSculpting Elite procedure is the first FDA-cleared for 9 distinct areas, which include under the chin, along the jawline, the flanks (love handles), abdomen, and thigh. With over one million CoolSculpting treatments performed worldwide, it is proven to be a safe and effective treatment for non-surgical fat reduction.
Q: Are there any side effects?
A: During the procedure you may experience deep pulling, tugging, pinching, numbness or discomfort. Following the procedure, typical side effects include temporary numbness, redness, swelling, bruising, firmness, tingling, stinging and pain. Rare side effects may also occur. The CoolSculpting Elite procedure is not for everyone. You should not have the CoolSculpting Elite procedure if you suffer from cryoglobulinemia or paroxysmal cold hemoglobinuria. The CoolSculpting Elite procedure is not a treatment for obesity. As with any medical procedure, ask us if this procedure is right for you.
Q: Can I return to normal activities after my treatment?
A: Yes, you can. The CoolSculpting Elite procedure is completely non-surgical, so typically you can return to normal activities immediately. Oftentimes, patients return to work after their session is over.
Q When will I see results?
A: You may start to see changes as quickly as 3 weeks after your treatment, and will experience the most dramatic results after 2 months. But your body will still flush out fat cells and continue doing so for as long as 4 to 6 months after treatment.
Q: Do I need to take special supplements or follow a strict diet and exercise program?
A: No supplements or pills are required and you do not have to adopt new diet and exercise habits. Many patients feel more motivated to take care of themselves after their CoolSculpting Elite treatment. It is as if they get a second lease on their body and want to start anew again by taking even better care of themselves.
Q: What happens if I gain weight down the road?
A: Many people, after seeing the results from their CoolSculpting Elite procedure, take even better care of themselves. However, if you do gain weight, you may gain it evenly all over your body, not just in the treated areas.
Your Next Step
If you are interested in learning more about CoolSculpting Elite in Ann Arbor, please request your consultation with our easy-to-use online form or call our office at (734) 712-2323 to schedule your visit.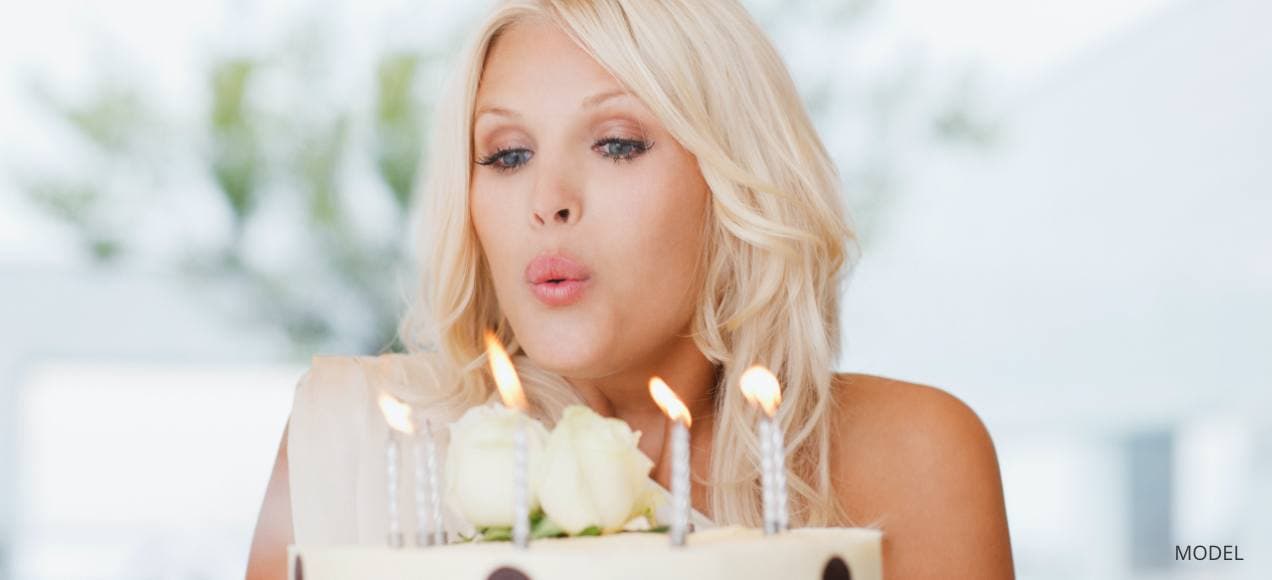 The Center
Birthday Club
Special savings during your birthday month. Come celebrate with us!
Join the Club