Center for Plastic Surgery Ann Arbor
5333 McAuley Drive, Suite 5001
Ypsilanti, MI 48197
Phone: (734) 712-2323
Monday–Friday: 9 a.m.–5 p.m.

Neck Lift
Our plastic surgeons perform neck lift surgery in Ann Arbor to help women and men rejuvenate the contours of the upper neck. This procedure helps define the chin-neck angle, providing a more definite distinction between the 2 areas. In most individuals, there is a combination of excess fat along with relaxation of the superficial neck muscles giving rise to the "turkey gobbler neck."
How Much Does a Neck Lift Cost in Ann Arbor, MI?
The cost of a neck lift at our Ann Arbor practice ranges from $6,081 to $11,124, depending on the extent of the procedure and the technique used by the surgeon. The cost of neck lift surgery using a local anesthetic is $7,629. We offer flexible payment plans to help you achieve your goals.
If you're considering combining a neck lift with other procedures, you can see the costs on our plastic surgery pricing page.
The price of your surgery includes:
Surgeon's fees
Anesthesia fees
Operating facility fees
Residents considering neck lift surgery in Plymouth, Canton, Chelsea, and surrounding areas can get detailed quotes after consulting with one of our surgeons.
Procedure Description
Most neck lift procedures begin with liposuction to remove excess fat. Fat is removed through a small incision just below the chin. The neck muscle (platysma) is sewn together, if necessary, to tighten the upper portion and decrease the sagging appearance. The incision is then closed and the areas treated are covered by a bandage or garment to help redrape the skin and contain the swelling.
When neck skin is loose, the skin can be tightened by removing some of the extra skin. This is usually performed in conjunction with a facelift procedure to be able to remove the maximal amount possible. In more limited situations, two incisions are made, one in front, under and/or behind each ear. If a full facelift is not necessary, a mini-facelift can be combined with the neck lift to provide more tightening. Sections of skin are trimmed and lifted into place and sutured. Tightening the neck muscles requires incisions below the chin and under, in front and/or behind each ear. These same incisions can be used for liposuction of the neck and tightening loose skin. Before the incisions are closed, a section of neck muscle is removed and the ends are sutured to bring them together at the front of the neck.
Patients with mild to moderate skin laxity on the neck may be candidates for the FaceTite treatment. This nonsurgical facelift and neck lift alternative provides effective skin tightening with minimal downtime.
Meet Our Surgeons
Our board-certified plastic surgeons have more than 50 years of combined experience in all facets of cosmetic and reconstructive surgery. As a qualified and compassionate team, they share a goal of providing a safe and rewarding plastic surgery experience while creating exceptional results worthy of your trust.
Credentials You Can Trust

Recuperation and Healing
You will be wearing a compression garment for several weeks to support the newly contoured skin. You should also avoid strenuous activities for several weeks.
You should plan to sleep with your head slightly elevated to help reduce swelling in the area. The contours of your neck may be swollen at first and facial movements may be somewhat stiff due to swelling. Bruising may last for several weeks.
Most people return to their usual activities and return to work approximately 1 to 2 weeks after surgery. Strenuous sports and other vigorous activities should not be performed for 3 to 4 weeks. You may drive when driving does not cause pain or when you are no longer taking pain medication.
Learn more about recovery time following a procedure here.
A Reputation Built on Results
Chaeli does a wonderful job!! Always takes her time, THE BEST!!
Center for Plastic Surgery in Ann Arbor is the best surgery center hands down, the anesthesiologist,...
I saw Heather for a HydraFacial and it was fantastic! My skin glowed afterwards! She was efficient...
Brittany is very caring and competent.
Nonsurgical Double Chin Treatments
CoolSculpting is a noninvasive method for eliminating fat cells by chilling them until they crystalize. During a treatment, the neck fat is placed into our smallest C-shape applicator. The arctic-level cold quickly numbs the area, so it's pretty comfortable during the 45-minute treatment.
Here are some photos from clinical trials.
This innovative injectable treatment is FDA-approved to reduce excess fat under the chin (also known as submental fullness). Kybella® has been shown to create a more defined facial contour with an improved profile, eliminating the unwanted appearance of a double chin. The injectable is composed of deoxycholic acid, which occurs naturally in the body to break down dietary fat. It works by dissolving the targeted fat tissue, which is then removed through metabolic processes.
It's important to note that Kybella can only be used for removal of fat under the chin. If you have loose skin in this area ("turkey neck"), Kybella can't address that problem. If you have a double chin and saggy skin, Liposuction might be a better choice for you.
Here are some photos from clinical trials.
Your Next Step
At Center for Plastic Surgery Ann Arbor, we look forward to helping you achieve your aesthetic goals. Please request your consultation with our easy-to-use online form or call our office at (734) 712-2323 to schedule your visit. Our consultation fee for both virtual and in-person consultations is $125, which is applied to the cost of surgery if you choose to move forward with the procedure.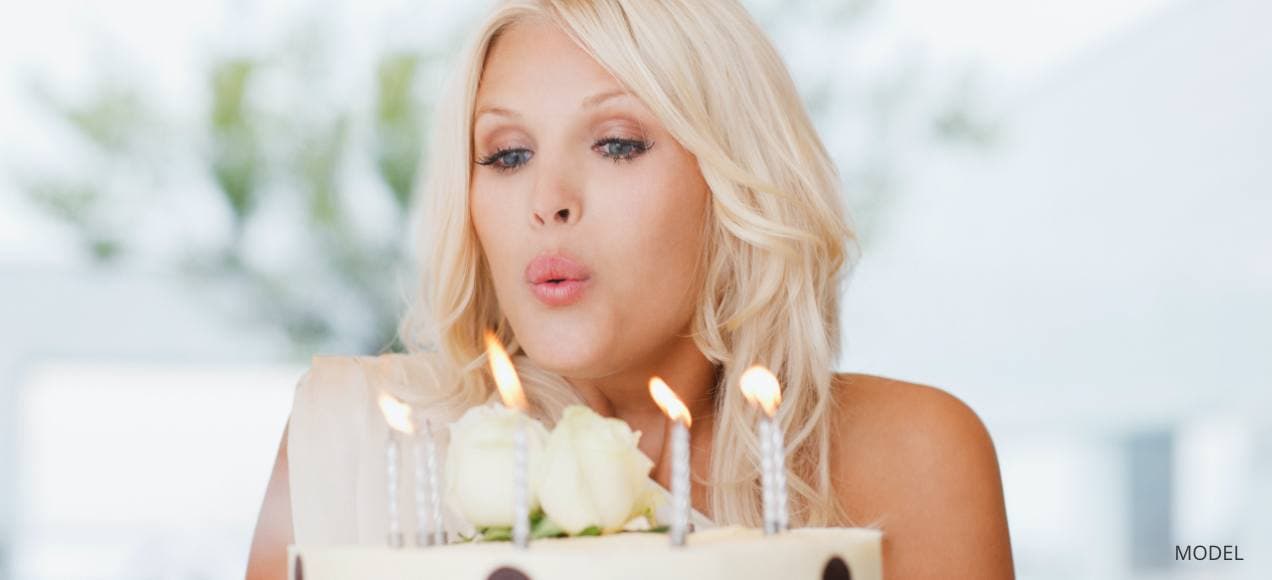 The Center
Birthday Club
Special savings during your birthday month. Come celebrate with us!
Join the Club