Center for Plastic Surgery Ann Arbor
5333 McAuley Drive, Suite 5001
Ypsilanti, MI 48197
Phone: (734) 712-2323
Monday–Friday: 9 a.m.–5 p.m.

Breast Augmentation
At Center for Plastic Surgery Ann Arbor, we strive to make breast augmentation in Ann Arbor, MI, as comfortable as possible for our patients from Plymouth, Brighton, and other nearby cities. Our board-certified plastic surgeons conduct consultations themselves to better understand each patient's unique goals. Our practice is conveniently located in St. Joseph Mercy Hospital, making cutting-edge technology accessible to our staff.
Request an appointment with one of our board-certified plastic surgeons using our online form or call us at (734) 712-2323 for more information.
Breast Augmentation

Before & After Photos
WARNING:
This feature contains nudity. Please click OK to confirm you are at least 18 years of age and are not offended by such material.
Who Is a Good Candidate for Breast Augmentation?
Good candidates for breast augmentation are women in good health who have one or more of the following concerns about their breasts:
Underdeveloped or too small
Out of proportion with their body
Asymmetrical (different sizes/shapes)
Lost volume due to pregnancy, breastfeeding, or weight loss
During a consultation, patients will be given the opportunity to meet with their surgeon to discuss the desired procedure. Any questions that you have can be answered and the steps of the procedure will be reviewed. Our surgeons take the time to thoroughly educate patients on the procedure to ensure that they are comfortable with the process.
Meet Our Surgeons
Our board-certified plastic surgeons have more than 50 years of combined experience in all facets of cosmetic and reconstructive surgery. As a qualified and compassionate team, they share a goal of providing a safe and rewarding plastic surgery experience while creating exceptional results worthy of your trust.
Credentials You Can Trust

What Are the Benefits of Breast Augmentation?
Breast augmentation can result in larger, more shapely breasts. It can also create a more balanced figure for a more positive self-image.
How Do I Choose the Right Breast Implants?
We offer only FDA-approved breast implants such as Natrelle® implants in both saline and silicone:
Saline implants: These are filled with a saltwater solution after they are placed.
Silicone implants: Silicone implants are much more popular due to their natural feel. These implants contain a silicone gel and come in both round and teardrop shapes. The Natrelle 410 highly cohesive silicone gel "gummy bear" implants are a popular choice because of the soft, natural look and feel these implants provide.
An exciting part of your breast augmentation consultation is choosing your implant size. Watch the video below to learn about how we help you with this decision.
Will Breast Augmentation Help With Sagging?
You may need to consider is a breast lift, which raises the breasts by removing excess skin and tightening the surrounding tissue to reshape and support the new breast contour.
Breast lift surgery is commonly performed to correct the following concerns:
Moderate to severe sagging where the breast is resting on the abdomen
Nipples that point downward below the inframammary fold (breast crease) and are the lowest part of the breast
Lack of fullness in the upper part of the breast (may require an implant as well)
Your surgeon will tell you whether you need breast augmentation, a breast lift, or a combination of the procedures to achieve your desired results.
How Is Breast Augmentation Performed?
On the day of surgery, patients can expect to be under local anesthesia with sedation. During the procedure, a small incision is made in order to place the implant, which is usually inserted under the breast tissue and the pectoralis (chest) muscle.
Our surgeons offer the following two types of incisions for breast augmentation:
Periareolar incision: Made around the edge of the areola (nipple).
Inframammary incision: Made along the breast crease.
The type of breast augmentation incision used will be decided upon during your consultation. Each patient is unique, and not every patient can expect to see the same results using the same incision.
Considering Breast Enhancement?
Discover 10 essential questions to ask your prospective surgeon.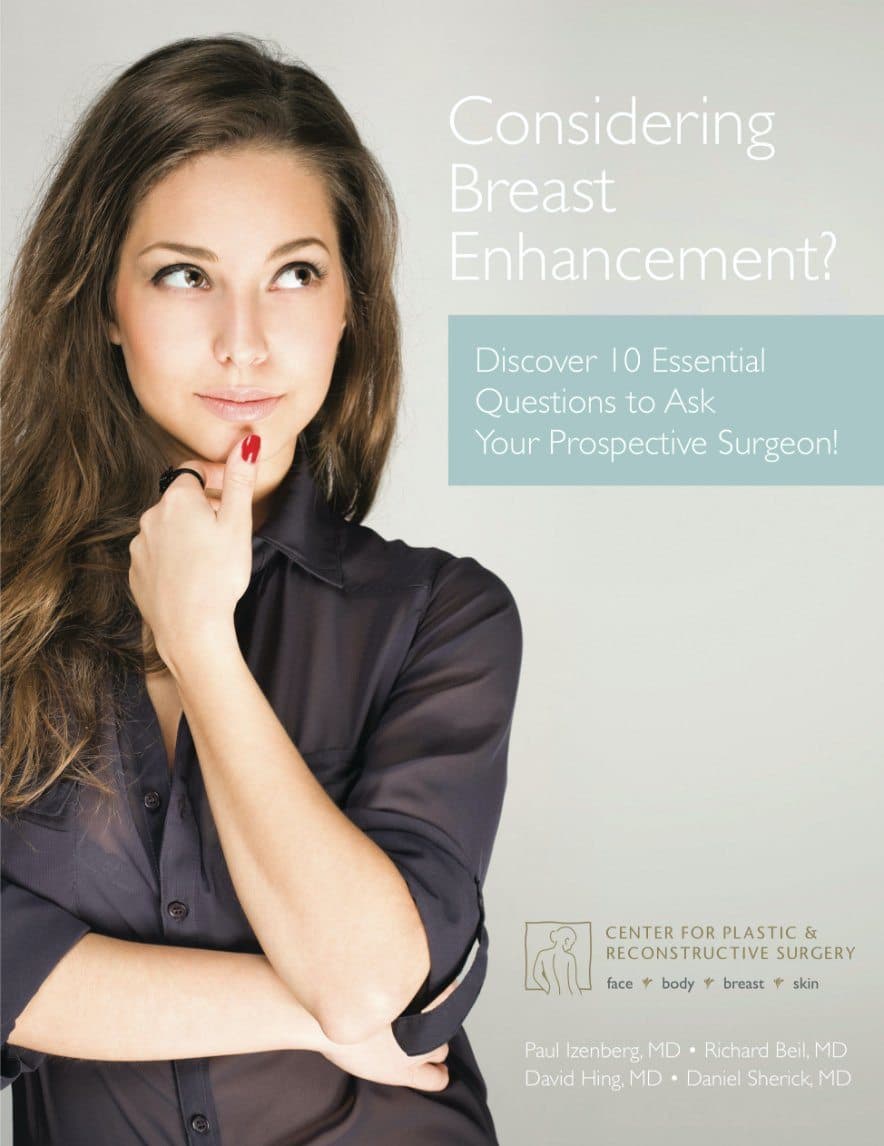 What Is Recovery Like After Breast Augmentation?
Our plastic surgeons perform breast augmentation as an outpatient procedure. Patients are sent home wearing a bra and ace wrap, which helps hold the breasts in the correct position. Initial discomfort is almost always controlled with oral pain medications.
Sutures are usually removed in 7 to 14 days during your follow-up appointment. Light activities can be resumed as tolerated. Aerobic activities or intimate contact can be resumed in a few weeks as healing progresses. Incision lines typically will continue to fade over the next year.
A breast augmentation is an invasive procedure, and therefore will require at least a week of downtime before you can resume daily activities. It is important to listen to your body while healing, so if you are experiencing pain, it is best not to push it.
Multiple follow-up appointments will be scheduled at 1 week, 2 weeks, 1 month, 3 months, and 1 year to ensure optimal results.
Learn more about the recovery time following a procedure here.
A Reputation Built on Results
Dr. Biel is excellent. My entire family (ages ranging from 17 to 70) has used his business. Skilled...
Your Next Step
At Center for Plastic Surgery Ann Arbor, we look forward to helping you achieve your aesthetic goals. Please request your consultation with our easy-to-use online form or call our office at (734) 712-2323 to schedule your visit.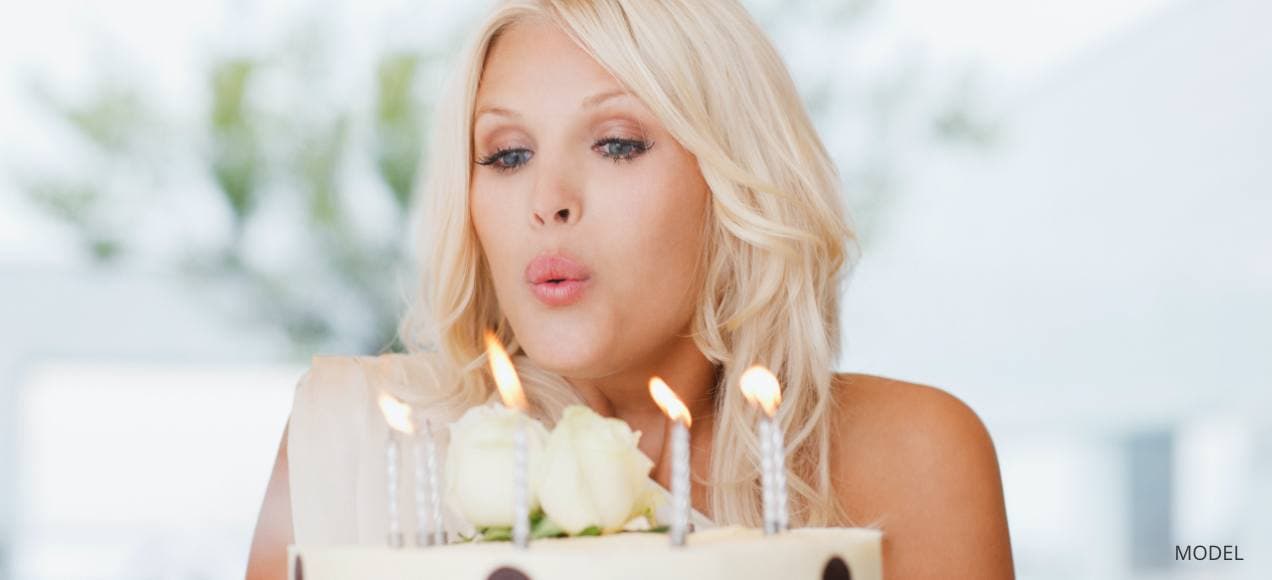 The Center
Birthday Club
Special savings during your birthday month. Come celebrate with us!
Join the Club