Center for Plastic Surgery Ann Arbor
5333 McAuley Drive, Suite 5001
Ypsilanti, MI 48197
Phone: (734) 712-2323
Monday–Friday: 9 a.m.–5 p.m.

Breast Augmentation
At Center for Plastic Surgery Ann Arbor, we strive to make breast augmentation in Ann Arbor, MI, as comfortable as possible for our patients from Plymouth, Brighton, and other nearby cities. Our board-certified plastic surgeons conduct consultations themselves to better understand each patient's unique goals. Our practice is conveniently located in Trinity Health Ann Arbor Hospital, making cutting-edge technology accessible to our staff.
Request an appointment with one of our board-certified plastic surgeons using our online form or call us at (734) 712-2323 for more information.
Breast Augmentation

Before & After Photos
WARNING:
This feature contains nudity. Please click OK to confirm you are at least 18 years of age and are not offended by such material.
Who Is a Good Candidate for Breast Augmentation?
Good candidates for breast augmentation are women in good health who have one or more of the following concerns about their breasts:
Underdeveloped or too small
Out of proportion with their body
Asymmetrical (different sizes/shapes)
Lost volume due to pregnancy, breastfeeding, or weight loss
During a consultation, patients will be given the opportunity to meet with their surgeon to discuss the desired procedure. Any questions that you have can be answered and the steps of the procedure will be reviewed. Our surgeons take the time to thoroughly educate patients on the procedure to ensure that they are comfortable with the process.
Meet Our Surgeons
Our board-certified plastic surgeons have more than 50 years of combined experience in all facets of cosmetic and reconstructive surgery. As a qualified and compassionate team, they share a goal of providing a safe and rewarding plastic surgery experience while creating exceptional results worthy of your trust.
Credentials You Can Trust

What Are the Benefits of Breast Augmentation?
Breast augmentation can result in larger, more shapely breasts. It can also create a more balanced figure for a more positive self-image.
How Do I Choose the Right Breast Implants?
We offer only FDA-approved breast implants such as Natrelle® implants in both saline and silicone:
Saline implants: These are filled with a saltwater solution after they are placed.
Silicone implants: Silicone implants are much more popular due to their natural feel. These implants contain a silicone gel and come in both round and teardrop shapes. The Natrelle 410 highly cohesive silicone gel "gummy bear" implants are a popular choice because of the soft, natural look and feel these implants provide.
Natrelle PERKS℠
Natrelle PERKS℠ is an offer exclusively for Allē Members who receive a breast augmentation with Natrelle® gel breast implants. Natrelle® breast augmentation patients are eligible to redeem a complimentary treatment with either JUVÉDERM® Ultra XC or BOTOX® Cosmetic. Joining Allē is free and easy. Plus, as an Allē Member, you will receive 500 points on your breast augmentation procedure with Natrelle® that can be redeemed for future Allergan Aesthetics treatments. 500 points is equivalent to $50 off a future Allergan Aesthetics treatment which includes things like BOTOX®, JUVÉDERM®, SkinMedica skincare products, CoolSculpting, and more!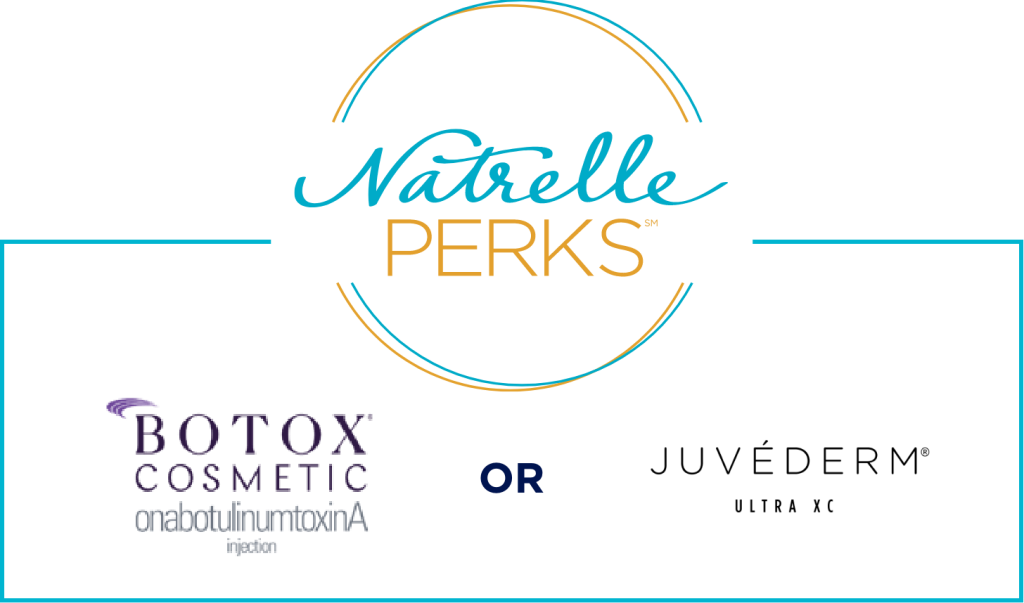 Choosing Your Implant Size
An exciting part of your breast augmentation consultation is choosing your implant size. Watch the video below to learn about how we help you with this decision.
Will Breast Augmentation Help With Sagging?
You may need to consider is a breast lift, which raises the breasts by removing excess skin and tightening the surrounding tissue to reshape and support the new breast contour.
Breast lift surgery is commonly performed to correct the following concerns:
Moderate to severe sagging where the breast is resting on the abdomen
Nipples that point downward below the inframammary fold (breast crease) and are the lowest part of the breast
Lack of fullness in the upper part of the breast (may require an implant as well)
Your surgeon will tell you whether you need breast augmentation, a breast lift, or a combination of the procedures to achieve your desired results.
How Much Does Breast Augmentation Cost in Ann Arbor, MI?
The cost of breast augmentation at our Ann Arbor practice starts at $5,593 (plus the cost of implants). The price varies depending on the technique used and the breast implants you choose. When our surgeons perform the procedure using a local anesthetic plus sedation, the cost of breast augmentation starts at $4,447 (plus cost of implants). We also offer flexible payment plans to help you achieve your goals.
You can see the cost of combining a breast augmentation with other procedures on our plastic surgery pricing page.
The price of your surgery includes:
Surgeon's fees
Anesthesia fees
Operating facility fees
Residents considering breast augmentation in Plymouth, Canton, Chelsea, and surrounding areas can get detailed quotes after consulting with one of our surgeons.
How Is Breast Augmentation Performed?
On the day of surgery, patients can expect to be under local anesthesia with sedation. During the procedure, a small incision is made in order to place the implant, which is usually inserted under the breast tissue and the pectoralis (chest) muscle.
Our surgeons offer the following two types of incisions for breast augmentation:
Periareolar incision: Made around the edge of the areola (nipple).
Inframammary incision: Made along the breast crease.
The type of breast augmentation incision used will be decided upon during your consultation. Each patient is unique, and not every patient can expect to see the same results using the same incision.
Considering Breast Enhancement?
Discover 10 essential questions to ask your prospective surgeon.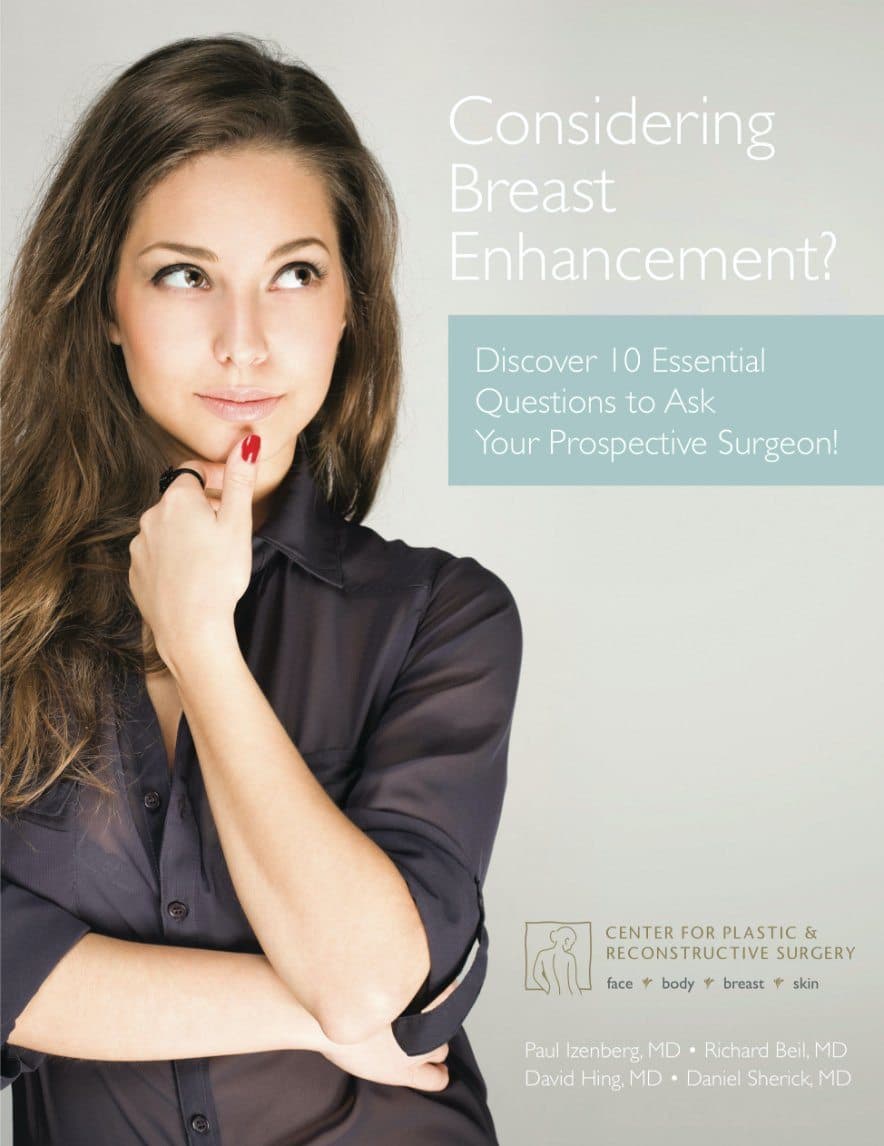 What Is Recovery Like After Breast Augmentation?
Our plastic surgeons perform breast augmentation as an outpatient procedure. Patients are sent home wearing a bra and ace wrap, which helps hold the breasts in the correct position. Initial discomfort is almost always controlled with oral pain medications.
Sutures are usually removed in 7 to 14 days during your follow-up appointment. Light activities can be resumed as tolerated. Aerobic activities or intimate contact can be resumed in a few weeks as healing progresses. Incision lines typically will continue to fade over the next year.
A breast augmentation is an invasive procedure, and therefore will require at least a week of downtime before you can resume daily activities. It is important to listen to your body while healing, so if you are experiencing pain, it is best not to push it.
Multiple follow-up appointments will be scheduled at 1 week, 2 weeks, 1 month, 3 months, and 1 year to ensure optimal results.
Learn more about the recovery time following a procedure here.
A Reputation Built on Results
Outstanding services, top notch professionals, welcoming staff, accommodating financial plans. Highly...
Received some filler from Patty. She was awesome and made excellent suggestions. I am VERY pleased...
I have been a patient at CPRS for years. Their staff and work is second to none. This is truly the place...
Chaeli does a wonderful job!! Always takes her time, THE BEST!!
Breast Augmentation FAQs
Can someone be too old for breast augmentation surgery?
The physical condition of your breasts, such as whether they sag, is much more important than your age when determining if you're a good candidate for breast augmentation. It's also important that you're in good overall health before scheduling any elective surgery.
Do I need to be at a certain BMI before surgery?
Your body mass index, or BMI, is one part of the picture when evaluating whether you're a good breast augmentation candidate. Your overall health is another factor. There is evidence that patients with a BMI higher than 30 have an increased risk of post-op complications, but that doesn't necessarily mean you can't get breast augmentation if your BMI is above 30. You should be at a stable weight, however, because losing a significant amount of weight after getting implants could compromise breast augmentation results.
What cup size will I be after breast augmentation?
Many women considering breast augmentation describe their goals as wanting to be a certain bra cup size. While that can help narrow down your choices when selecting the size of breast implants, your bra cup size may differ depending on the brand of bra you're wearing. That's because there is no standard for cup sizes. It is worthwhile to get professionally fitted before shopping for new bras after breast augmentation.
How do I choose the right breast implant size?
This may be the most common question women ask during their consultations. Many patients considering breast augmentation say they want the results to look natural—which essentially means they want their breasts to look proportional to the rest of their body. Your surgeon will take several measurements during the consultation that help guide your choice of implants. It's important to understand that the same size of implants that may look great on a friend or family member may not be the best for your body.
How will my breasts look immediately after augmentation?
The first time you see your breasts after surgery, they'll look swollen and bruised. Even after the swelling and bruising start to disappear, your breasts will sit high on the chest and appear somewhat compressed. The implants gradually settle into place over time, a process called "dropping and fluffing." This occurs as the tight muscles and skin in the chest begin to relax and the implants fill out the bottom of the breasts.
Will my nipples go back to normal after augmentation?
Just as your breasts will appear to be sitting high on the chest after your procedure, the nipples may also look out of place. The good news is that this is only temporary, and the position of your nipples should begin to appear much more natural as your breast implants start to settle into place.
Your Next Step
At Center for Plastic Surgery Ann Arbor, we look forward to helping you achieve your aesthetic goals. Please request your consultation with our easy-to-use online form or call our office at (734) 712-2323 to schedule your visit. Our consultation fee for both virtual and in-person consultations is $125, which is applied to the cost of surgery if you choose to move forward with the procedure.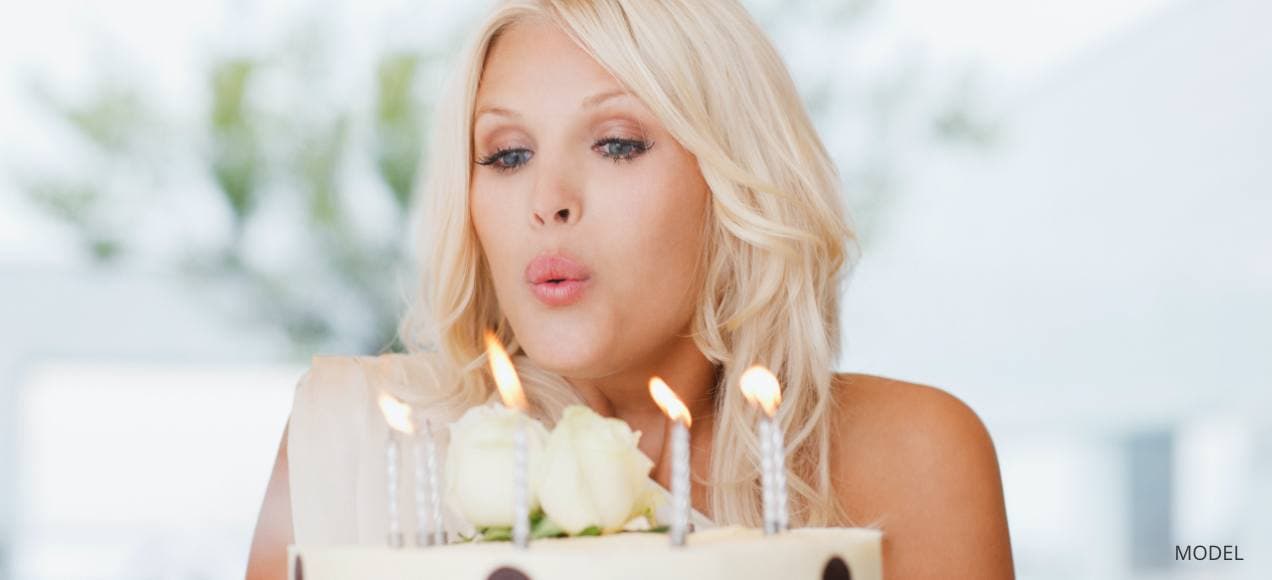 The Center
Birthday Club
Special savings during your birthday month. Come celebrate with us!
Join the Club